"I fundamentally believe that diversity of people enhances innovation. The different ways of thinking foster creativity. But just having diversity is not enough. We have to embrace and appreciate each other's diversity to translate it into novel ideas – that's why inclusion of people is so important."
(Severin Schwan, CEO Roche)
Diversity & Inclusion a Catalyst for Innovation
Diversity and Inclusion (D&I) is a deeply ingrained aspect of the Roche culture. Our company's efforts to advance diversity and inclusion within our walls and in the broader society are centered on our people, patients and communities.
Here at Roche Services & Solutions APAC, we are focused on attracting, retaining, developing and advancing our people to their full potential by rewarding bold ways of thinking and integrating inclusive behaviors into every aspect of our work. Recognising that better decision making and problem solving abilities are often driven by people's diverse and sometimes conflicting perspectives, backgrounds, approaches, ideas and experiences, we continue to embed Diversity & Inclusion elements into every aspect of our organization as we strive to drive greater impact for Roche.
We take pride in bringing in diverse groups of talents under one roof and continuously strive to create an inclusive environment where everyone feels respected and given an equal opportunity to unleash their potential.
Here's how we embrace D&I:
17 Nationalities under one Roof - We have a global diverse workforce coming together to contribute to the powerful diverse and inclusive culture we are fostering.
Young Talents - Young Talents are empowered to shine and develop their leadership potential in a fast paced, multicultural work environment.
Differently abled talents - Real inclusiveness starts from embracing the differently abled talents and creating an environment to unleash their unique capabilities.
Career Comeback - A 'career break' isn't new, especially for working mothers and for those having to assume the role of caregiver. Through our Career Comeback programme, we give women and men who have been out of the professional workforce a chance to return to work and grow both professionally and personally.
Women in Leadership - At Roche, we are proud of our progress on gender equity. We believe that everyone should be given equal opportunities to lead.
Senior Hires - For us age is just a number as every talent brings different skills and expertise.
LET'S HEAR FROM THE DIVERSE TEAM AT ROCHE ABOUT THEIR JOURNEY...
Roche Services & Solutions APAC, my second home!
Embarking into my 5th year in Roche as a native Burmese speaker, there hasn't been a single day during which I felt like I am a foreigner. The word 'inclusive' can be seen and felt in every part of Roche. People are given equal treatment; our ideas are heard, there is great team spirit and equal opportunity to grow. The way our leaders treat teams with respect speaks a lot about the value we hold as an organisation. Having a conversation without worrying about the hierarchy, truly amazes me! I have grown so much and I am proud to say that I am now a multilingual senior specialist in Roche.
- George Sithu Han, Procurement Senior Analyst
I am proud with my growth as a native Korean Speaker!
The experience that I have gained in Roche Services & Solutions APAC is truly rewarding and incomparable to my previous roles. Over the last 5 years, I have been exposed to multiple global projects, which has broadened my skills. I really think that challenges are common but the inclusive environment here has helped me to turn them into opportunities. It has been an immensely rewarding journey, and I have grown so much in Roche.
- Ho Young Cho, Senior IT Service Desk Analyst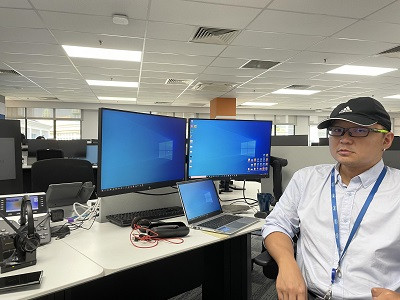 Disability is NOT Inability! Believe in YOU!
I struggled for many years to secure a permanent role until a life changing event happened when I stepped into Roche Services & Solutions APAC. The treatment towards people with disability is much more professional. Here, I am empowered, included and given equal opportunity where finally i regained the confidence that I lost. I am grateful to be part of this team and enjoying every single second in Roche.
- Hon Win Woon , IT Service Desk Associate
I found my sweet spot as a Fresh Graduate!
Roche Services & Solutions APAC has opened baskets of diverse opportunities for me. I joined as an intern and since then, I have had the opportunity to develop my professional skills as a strategist and more excitingly, I celebrate the beginning of my official career as a full-time employee. I also find my journey in Roche meaningful; the strong business purpose of "doing now what patients need next", is something that I deeply connect with as an individual. In summary, I feel like I have the chance to do what I am most passionate about, while still delivering outcomes that meet the needs of patients worldwide.
- Yasmin Nadhirah Nasharuddin, Business Process Analyst
Remember, nothing is impossible. It's never too later if we believe so!
I was an engineer who took a career break a decade ago. It extended unexpectedly longer than planned where it eroded my self-confidence and I missed the achievement and fulfillment I used to experience. Therefore began the challenging path to a career comeback, for myself and as a better role model to my growing girls. Thankfully, I crossed path with Roche Services & Solutions APAC where the team provided the opportunity and support resulting in a position at Roche. 2 years in Roche and recently moved to a new role. I foresee much growth in the coming years with supportive colleagues & a great working environment.
- Chang Mei Lian, Senior Service Delivery Experience Specialist
Don't be afraid of the unknown; life itself is a mystery!
People often ask me, how do I survive as a woman in IT. Well, I don't see myself as a woman in IT. I see myself as a leader in IT. I've always believed that my gender has no bearing on my work. I am truly blessed to be part of Roche Services & Solutions APAC as it creates an environment where everyone feels a sense of belonging and can thrive equally; no matter what, it makes us unique. This is what I want to continue to offer to my team and the people around me. I truly believe that to move forward you must believe in yourself, embrace your strengths and weaknesses. In Roche, I learned that #NotPerfectIsOK and we know we are bound to fail along the way, so what? Pick up the pieces, learn from them and move on. Finally, be adaptable, and fine-tune your course.
- Waheeda Zety Md Hanipah, Network Head
Own your career
Having taken a career break, the transition back to the workforce made me rethink my priorities and focus on what I was passionate about as a leader. At Roche Services & Solutions APAC, my role has constantly evolved as Roche promotes an inclusive culture that cuts across the way we work as a team and the flexibility and empowerment that I get to deliver the biggest impact. I have never felt that being a woman has been a disadvantage progressing my career. Remember, the success of an individual comes down to their tenacity for development and their passion for what they do. Roche allows me to be at my best!
- Yasodha Selvaratham, Strategy & Transformation Lead
I will continue to serve the society beyond retirement!
When I was recently about to reach the statutory retirement age in Malaysia, I shared with Roche Services & Solutions APAC my passion to help develop and coach younger IT professionals to achieve their career aspirations. Today, I am still gainfully employed in Roche and at the same time, I will continue to contribute to society in a broader way by working with universities and using my IT knowledge to help the upcoming generation. I am extremely grateful for the opportunity to continue serving society through a great organization such as Roche beyond official retirement.
- Edward Chin, Technology Consulting Management
DISCOVER WHAT MAKES ROCHE SERVICES & SOLUTIONS A GREAT PLACE TO WORK BY JOINING OUR UPCOMING WEBINARS PLEASE CLICK HERE TO REGISTER
Learn more about Roche Services & Solutions APAC by clicking the links below!