Looking for a job, internship or a platform to network with some of Malaysia's top industries? We have you covered at GRADUAN® ASPIRE! With more than 100 participating organisations and a host of events, you're bound to meet the best at ASPIRE. Here are some highlights to look forward to.
Career Fair
The main attraction of the fair? More than 100 participating organisations from a variety of different industries including banking and finance, automotive, fast moving consumer goods, information technology and so much more for you to meet, mingle and possibly get an interview with!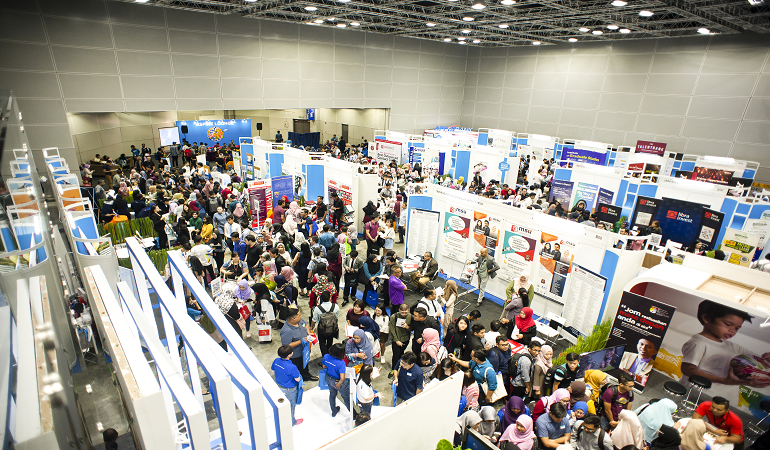 Aspire+ Corporate Luncheon
Limited to only 150 of Malaysia's brightest working professionals, the Aspire+ Corporate Luncheon boasts a participation of over 50 top Malaysian CEOs and senior level management where you can meet and network with to take your career to the next level. We'll also be hosting a forum "Are you relevant for the future?" featuring CEOs from CIMB Group, AirAsia and KSK Group Berhad.
Aspire Lounge
Sit back, relax and enjoy the presentations we have in store at the Aspire Lounge featuring talks from some of Malaysia's most exciting companies including Teach For Malaysia, Stashaway, PichaEats and more! Enjoy the Aspire Run that will be kicked off at the Aspire Lounge as well.
Aspire 500 Conference
Widen your horizons at the Aspire 500 conference! This year, our panel of experts from the pioneers of e-Wallets like Touch n' Go, Fave, Boost eWallet, MAE and Stashaway discuss the challenges of a cashless society and what the future holds.
If you haven't already, it's not too late to be part of the excitement. Registration and more information available at graduan.com/aspire.